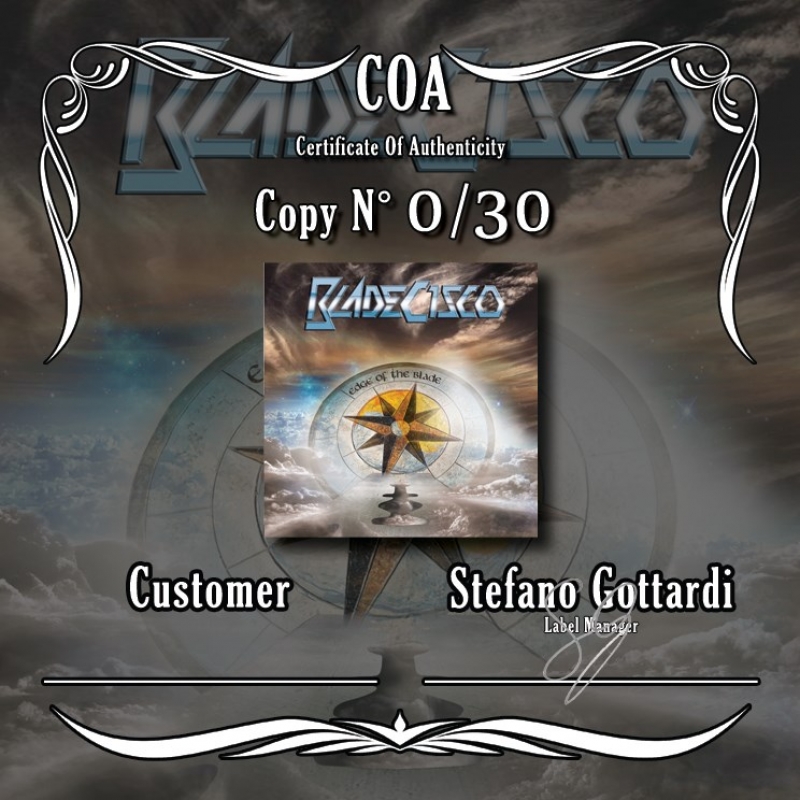 Edge of the Blade Limited Personalized Edition
Blade Cisco
---
data release: 13-12-2019
etichetta: Art Of Melody Music
genere: MELODIC ROCK
formato: CD JEWEL CASE
ESCLUSIVA ROCK TEMPLE!!
EDIZIONE LIMITATA PERSONALIZZATA: questa edizione speciale in versione limitata viene venduta con un cartoncino che include il nome dell'acquirente dell'album, il numero della copia e la firma del fondatore di Art of Melody Music che ne certifica l'originalità. Inoltre, a rimarcarne l'esclusività, questa versione include un copri-copertina realizzato a mano da Outward Styles. Una edizione molto speciale disponibile in sole 30 copie, dedicata a tutti i collezionisti di melodic rock del mondo.
Art Of Melody Music & Burning Minds Music Group sono lieti di annunciare tutti i dettagli di "Edge Of The Blade", debut album ufficiale dei Melodic Rocker tricolori Blade Cisco.
Originari della provincia di Reggio Emilia e Mantova, i Blade Cisco nascono nel 2007 dall'incontro di un gruppo di amici, intenti a condividere la passione e l'ammirazione nei confronti di storici nomi della musica AOR e melodic rock come Journey, Foreigner, Night Ranger, Styx, Magnum, Def Leppard e FM. Successivamente la band composta da Andrea "Zanna" Zanini (Voce, Tastiere), Valerio "Valle" Franchi (Chitarra Ritmica, Voce), Daniele "Daniel" Carra (Chitarra Solista) e Umberto "Gali" Gialdi (Batteria) viene completata dall'ingresso del grande Michele Luppi (Whitesnake, Vision Divine, Killing Touch, Secret Sphere) che ricopre il ruolo di bassista per ben tre anni, prima di congedarsi e lasciare il posto all'attuale membro del gruppo, Cesare "Cece" Fioriti. Co-prodotto, mixato e masterizzato dallo stesso Michele Luppi, "Edge Of The Blade" mostra il talento della formazione italiana nel catturare il classico sound melodico di leggende come Journey, Foreigner & Night Ranger.

La copertina del CD è stata realizzata da
Aeglos Art
(
Wheels Of Fire, Raintimes, Michael Kratz, Alchemy, Firmo
), mentre il booklet vanta l'inclusione di liner note introduttive scritte da
Viri AOR
.
01. Memories
02. Anything (Without Your Music)
03. Foolin' Myself
04. Rain Over Me
05. Life Is A Lottery
06. Edge Of The Blade
07. Hungry For Love
08. Grey
09. Invisible To Me
10. We Are Still Standing
11. My Way
vai al catalogo